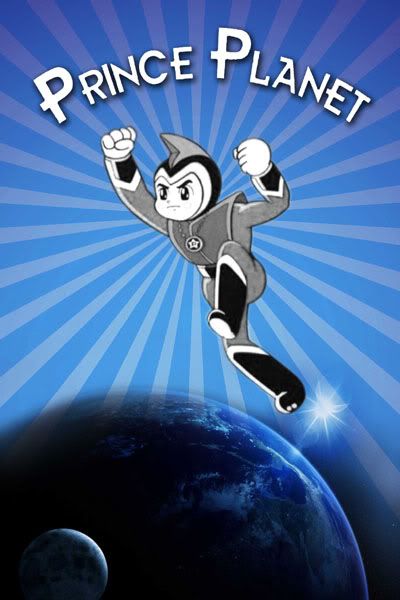 It's exciting news for Prince Planet fans! Starting Monday November 9th 2009, 46 episodes of
Prince Planet
will be released on
Hulu
and YouTube. It's been thirty years since Prince Planet last aired on American television. Now, after years in
MGM's
archives, this fondly remembered series is zooming out of the vaults and onto your monitors in a new, digitally restored version! All your favorite characters are back - Dan Dynamo, Diana, Pops Worthy, Adji Baba the Arabian wizard, Warlock the Martian Magician, Krag the Master Of Misery, and that guy on Radion who was always asleep at the switch whenever Prince Planet needed more juice -they're all just as you remember them, and now you don't have to fiddle with the UHF antenna. Aliens, robots, monsters, gangsters, alien robot monster gangsters - all the excitement of Prince Planet is returning just when we need him the most.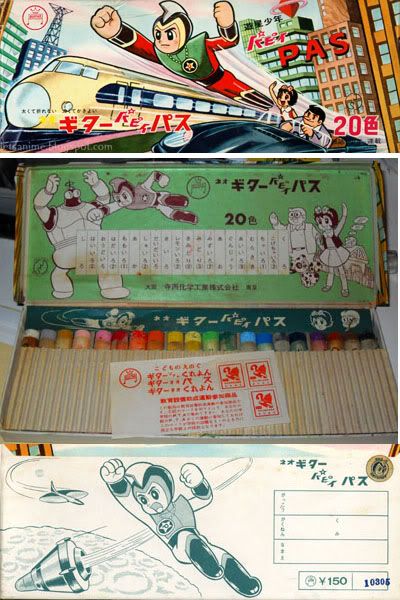 Prince Planet Pastels!
We here at Let's Anime are really excited about this. Probably too excited. Anyway, thanks to
MGM
we have some promotional goodies to give away - T-shirts! So we're going to have a contest. Here are the rules.
1. Employees and staff of Let's Anime and their relatives are not eligible for this contest. Since we do not have any staff or employees I do not see this being a problem.
2. The first five (5) people to send Let's Anime their original Prince Planet fan art drawing will recieve a Prince Planet T-shirt.
3. Drawings must be of Prince Planet and one or more of the following: Diana, Dan Dynamo, Adji Baba, Warlock, or Krag. Your choice. Color, black and white, whichever you prefer. If you want to draw Bobby instead of Prince Planet it's OK.
4. Drawings must be ORIGINAL - this must be your own work. I know how to use Google Image Search too, smarty.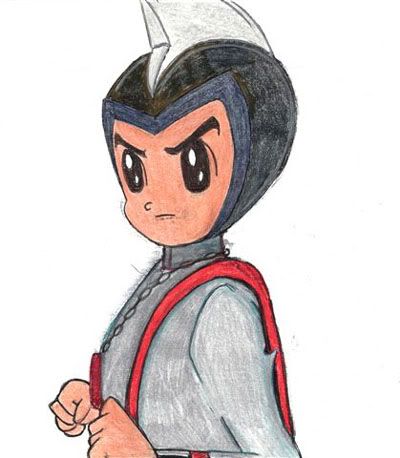 Prince Planet art by Meg Evans
5. Digital media is fine.
6. Drawings need to be scanned and saved as a .jpg file, 72 or 100 dpi, at least 400 pixels wide. Please don't send any files larger than a meg or so.
7. If you don't have a scanner, take a digital picture of the drawing and email that.
8. Email image files to: terebifunhouse@gmail.com
9. Include your NAME and your MAILING ADDRESS. This information will NOT be given to anybody and will remain a top secret of Let's Anime.
Prince Planet art by John Gaydos
10. Contest is open to United States and Canada residents only. Sorry guys, my budget for this stunt does not cover shipping stuff around the world.
11. I will post the winning drawings in an upcoming Let's Anime blog post.
12. Contest ends at 11:59pm MONDAY NOVEMBER 16th 2009.
The t-shirt looks like this!
Remember, email those drawings to terebifunhouse@gmail.com and watch Prince Planet on
Hulu
and YouTube starting November 9th! Special thanks to
MGM
for making this all possible!
IMPORTANT NOTE - I have now recieved 5 entries and the contest is now closed. There's some great artwork and I will be posting it at Let's Anime in a few days. Thanks to everybody who contributed! If you want to send fan art anyway, please feel free to do so.
More Meg Evans Prince Planet fan art
Prince Planet, of course, was first broadcast on American television in 1966. Dubbed by Copri International, this 52-episode television series was released by American International Pictures, the same outfit that provided us with gems like THE WILD ANGELS, DIE MONSTER DIE, RIOT ON THE SUNSET STRIP, BEACH PARTY, GHOST OF DRAGSTRIP HOLLOW, WILD IN THE STREETS, and much of Roger Corman's ouvre. AIP's Japan connection includes anime titles like ALAKAZAM THE GREAT, live-action hero shows like JOHNNY SOKKO AND HIS FLYING (or GIANT) ROBOT - which is also now available on
Hulu
! - and films involving big Japanese stars like Gamera and Godzilla. AIP was bought by Orion, which was in turn absorbed by MGM. So the question is, what influence did Prince Planet have on North American anime fandom?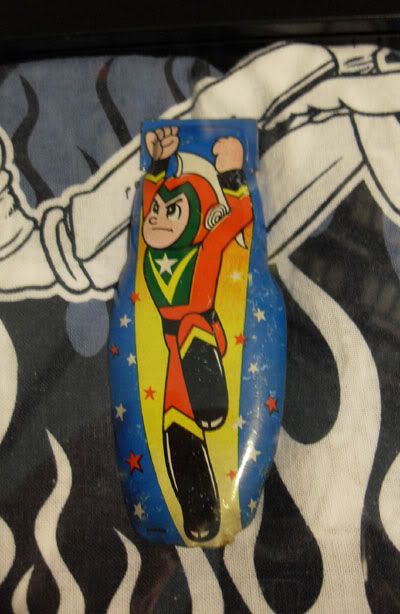 possibly unauthorized Usei Shonen Popi metal click toy from the 60s
In the years between 1966 and 1979, Prince Planet became a fixture in the minds of many of America's television generation kids. Of course the 1960s was a wild time for Japanese cartoons - the term "anime" had yet to be coined and instead the favored catchphrase was "terebi manga" - and instead of a constant barrage of magical schoolgirls and giant military robots, the nascent anime field was experimenting and finding its way with a wide variety of shows featuring a wide variety of characters. This is the era that gave us Astro Boy, Marine Boy, Gigantor, Eighth Man, Speed Racer, the Amazing Three, and other series less known in the United States like Cyborg 009, Cyborg Big X, Ken The Wolf Boy, Attack No. 1, Princess Knight, Skyers 5, Kamui the Ninja, Ninja Sasuke, Sally The Witch, Pirate Prince, Rainbow Soldier Robin - a bewildering variety of programs produced by an industry just finding its way. Usei Shonen Popi enbraced this "anything goes" aesthetic as a freewheeling adventure show willing to do anything. Robots, tiny aliens, gangsters, monsters, spaceships, death and destruction, frankly bizarre characters like Warlock and Krag, and a series-long story arc that might have been the first of its kind for any animated series anywhere all percolated in the minds of impressionable youngsters, and as these youngsters grew up and found out there was a thing called "Fandom", naturally the concept was applied to Prince Planet.
flyer for Prince Planet Foundation
In the late 1980s, armed with a C/FO membership directory that listed fans by their interests, I set out to get in touch with everybody I could find who expressed any interest in Prince Planet. The result was a loose network of pen pals and tape traders. We swapped copies of Prince Planet episodes, wrote fan fiction and drew fan artwork and cartoons, and even published a few fanzines.
Meg Evans cartoon from the Prince Planet Foundation fanzine
When I started the print Let's Anime, one of the earliest articles was a feature on Prince Planet. Throughout the 1990s I continued to get emails from people desperately looking for Prince Planet episodes. Although several unauthorized releases were being sold through grey-market channels, we continued to hope that MGM would one day legitimately make Prince Planet available to the general public. And now they have, so I suppose we can get back to where we were as children and simply enjoy the thing.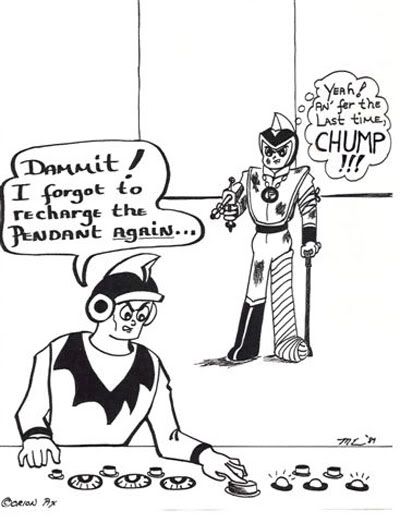 Which is what I intend to do, and I highly recommend you all spend a little time watching Prince Planet on
Hulu
and YouTube!
This post is approved by the Great Seal Of Prince Planet!
Artwork in this post is (c) its original creators.
By the way,
Prince Planet
now has a Facebook page. Naturally.